About the Webcomic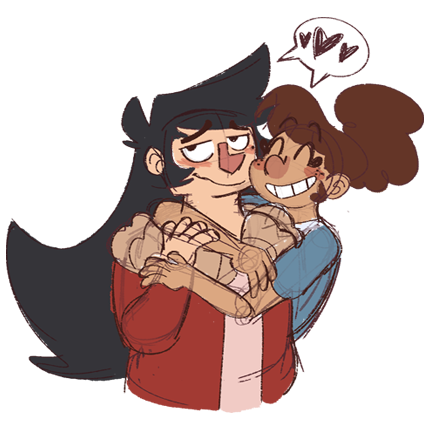 Holly & Macy and Everyone Else is a romance webcomic about a girl who becomes a witch, her best friend who falls in love with her, and her ex-best friend who is mad about it.
It's the mid-2000s, and Macy Harris has spent her whole short life in the small, weird town of Folley, Texas. She's sick of it, but no one seems to notice. When she finds an ancient spellbook in the woods outside of town, Macy sees it as the chance to change her world. With newfound confidence she befriends school bully Holly Hertzmann, a tough and mysterious girl who Macy admires. The two girls grow close under the cover of the woods, much to the chagrin of Macy's friends (and enemies). Macy starts to realize that she might like Holly, like not as a friend, and between gay panic and witchy secrecy, her life starts to unravel into some sort of dramatic, freaky mess. But maybe that's a good thing?
Holly & Macy and Everyone Else currently updates every Wednesday.
Due to the nature of this comic, characters occasionally face homophobia and/or ableism, and sometimes homophobic slurs are used. Physical abuse is never depicted, but it is occasionally talked about or implied. This is a general content warning for the whole comic.
If you're still curious about the comic, check the FAQ Page or start reading here!